Yesterday, I decided to update this blog and use latest WordPress theme Twenty Seventeen. This theme has one awesome feature – video header on main page. You can see it in action right here if you are reading this blogpost on a big screen (more than 900px). Smaller displays will get static image only.
I decided to try this new feature and create simple animation. I used FFmpeg to stitch together some images and create a MP4 video in less then one hour…
The most difficult part was to prepare a scene. I arranged my board developed for Europe game, old multimeter and as a background I printed one of my schematics.
I shoot more than 20 photos before finally nailed it. The camera has to be set to manual mode – focus, aperture, shutter speed and ISO, every photo should have the same settings.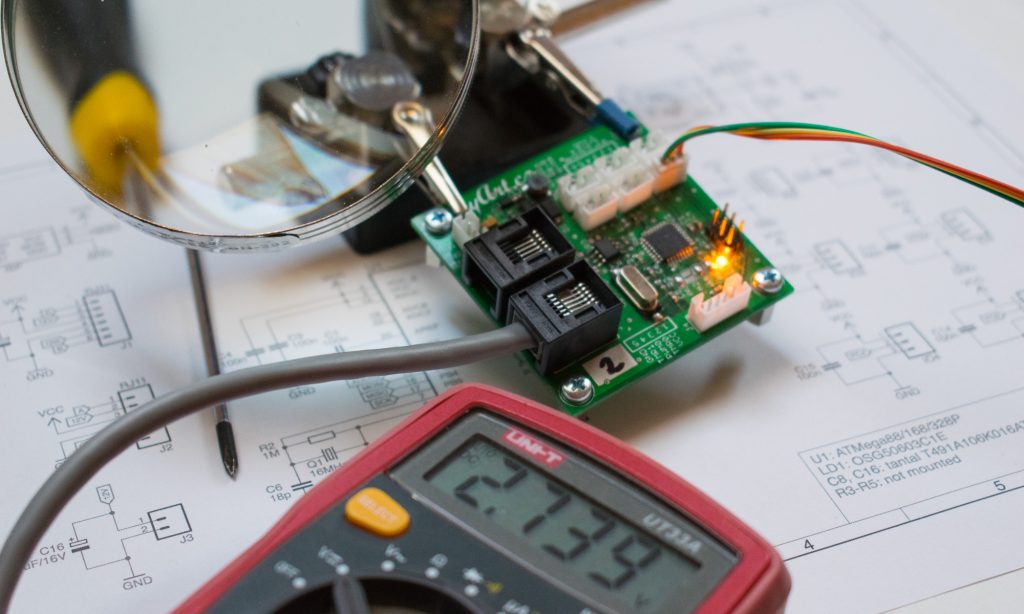 Cool… now to crop all images to 2000×1200 pixels and make a video.
FFmpeg is versatile video encoder and can be used from command line. You can install it by running apt-get install ffmpeg on Debian/Ubuntu and by brew install ffmpeg on Mac OS.
The magic words to start video encoding are:

$ ffmpeg -i ./in.ffconcat -vcodec h264 \
  -preset medium -vf format=yuv420p \
  -movflags +faststart -r 25 out.mp4

and the content of in.ffconcat file is:

ffconcat version 1.0
file logo-01.jpg
duration 1
file logo-02.jpg
duration 0.2
file logo-01.jpg
duration 2
file logo-02.jpg
duration 0.1
file logo-01.jpg
duration 2
file logo-01.jpg

FFmpeg reads this file and creates simple slideshow with defined duration for each file. The photo with LED turned off is logo-01.jpg and logo-02.jpg has LED on.
The result is short and small (~784 kB) video encoded with h264 codec and encapsulated into mp4 container:
Unfortunately, the header is cropped and its not possible to see all values on multimeter display. But hey… its still a success! :)
Few notes about video settings:
You have to use YUV planar colour space with 4:2:0 chroma subsampling, because this is the only colour space supported by older QuickTime (and Safari browser) for h264 videos.
Last image in concat file has to be repeated twice. This is due to some bug in FFmpeg.
The -movflags +faststart parameters will move some media informations to the beginning of file, which allows browser to start video even before it was completely downloaded from the server.